Our Story
What is the Girl on Fire Empowerment Program?
The Girl on Fire Program is a 12-week program containing both theory and physical practice. Each weekly class is themed according to the 10 Girl on Fire inner treasures of self-awareness, self-worth, confidence, discernment, resilience, discipline, optimism, contentment, connection and essence.  These inner treasures were created with the hope that by cultivating these core competencies, girls will have the skills to live empowered, joy-filled, and harmonious lives.
The program includes several components:
Movement sequences designed to balance and strengthen body, mind and energy
Cognitive therapy to heal emotional issues and limiting thinking
Wisdom teachings that foster self-esteem and confidence and awaken our inner radiance
Self-honoring practices that help to establish healthy boundaries and cultivate supportive relationships
Reflective exercises on what it means to be strong young women contributing positively in the world today
This program really works!   Through our very first pilot program we have seen a difference in the lives of girls who have taken this program.
Through the pilot program the 10 Core Competencies were subcategorizing into four categories:
Intra-personal - self-awareness, self-worth, confidence
Capacity - resilience, discipline, discernment
Dispositional - contentment, optimism
Interpersonal - connection, and essence.
Significant gains were made in each of the four sub-categories: Intra-personal (26%), Capacity (26%), Dispositional (26%), and Interpersonal (15%).
There was also an exceptional 44% improvement in the Resiliency competency!
In the final week, students were asked what they like best about the program.  The top three answers were:
a sense of community/friendships,
 yoga, and
the teachers
Some feedback from the participants included:
"I will always know to love myself - that is my favourite thing I learned"

"The biggest impact the girl on fire program has had on my life is that it's taught me to be confident in myself and to always be 100% sure of myself no matter what others think, that I am an individual and beautiful the way I am, and I believe that's one of the most important lessons every girl should have"

"I can be a better, happier version of myself and all girls should also have access to this information instead of dealing with things 'cluelessly' and feeling alone"

Feedback from a classroom teacher was given around the eight-week mark of the program. 

"Student X, has a better attitude.  She is more mature and enthusiastic to do her work, and to get it in on time.  She always had this potential to care and be a good leader, now though -  It is shining through." 

"Three cheers for Girl on Fire and its positive effects on our female students!" Pilot teacher assistant. 
---
Welcome Message
Hello there, I'm glad you're here.
Do you struggle with the pressure to be someone other than yourself?
Do you feel overwhelmed by the thought of becoming an adult and everything that's involved with that role?
Do you sometimes feel alone, misunderstood and not recognized for what you are capable of?
If you answered yes to any of these questions then you're in the right place, and you're certainly not alone.
My name is Jenny Kierstead and I'm the founder of Breathing Space Yoga Studios and Yoga in Schools. While I currently live an amazing life filled with career success, relationship fulfilment and vibrant wellbeing, this wasn't always my reality. When I was 16 years old, my whole world came tumbling down around me—my dream of becoming a university basketball player was in jeopardy, my parents were divorcing, my dog who slept on my pillow each night was hit by a car and died, my boyfriend was diagnosed with cancer and my beloved grandmother passed away. While any one of these occurrences would be considered traumatic, I had all of them happen at once! It was indeed, the perfect storm.
Up until that point, my life had been status quo: the same house, same family structure, same routine and same friends. My parents were leaders in the community and very respected. My two siblings and I were well loved. People used to think of our family as the ideal. But behind our outwardly perfect image there was a storm stirring that would eventually crest into a massive wave of destruction.
And when it struck, I was completely ill-prepared. As I attempted to cling to the pieces of my crumbling world, I used what few coping mechanisms I had at the age of sixteen. I dealt with the perfect storm by controlling what aspects of life I could: my diet and my body. Before I realized what was actually happening, the dark power of anorexia took hold of my life and continued to do so for years.
After many years of suffering and many moments on the brink of giving up, I have emerged from the wreckage of that storm. I have also amassed incredible skills from years of cognitive therapy, bodywork, ancient healing practices, rigorous personal inquiry and service.
The teen years are the most creative, energetically charged years of our lives. My work over the last twenty years has been to create a repertoire of core competencies, or inner treasures as they are referred to here, to help those in this phase of life stay healthy and balanced.  Many people, like me, live through these years without effective life skills. For that reason, this program is truly applicable to women of all ages.
My hope is that this program will be deeply rewarding with content you will refer to for years to come. It is also my hope that this program ignites you and challenges you, calling you to reconsider habits that don't serve your highest potential. This work of questioning old ways of being requires great courage and faith on your behalf. Speaking from experience, you will not only survive, but come out on the other side thriving as a whole new version of yourself.
A Girl on Fire is a woman free to be who she was born to be, a woman who confidently shines her light essence into dark spaces and a woman with the power to wholeheartedly lead humanity into greater realms of consciousness, compassion and peace.  
I hope this work transforms your life as much as it has mine.
May you be healed
May you be happy
May you know great joy
May you dwell in peace.
Jenny
---
Jenny's Biography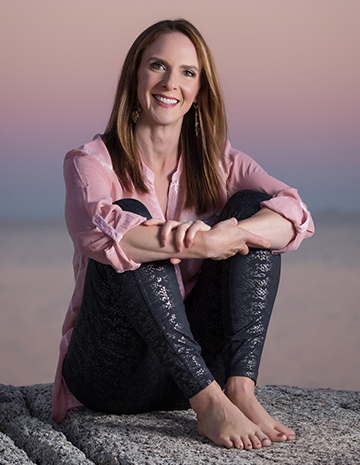 Jenny Kierstead is the founder of award winning Breathing Space Yoga Studios and Yoga in Schools. Her hard earned recovery from Anorexia Nervosa in her teens came from extensive study with master teachers and therapists from around the world.
Her trail blazing vision in education led her to receive the Progressive Women of Excellence Award and the RBC Women of Influence Award.
A former PE teacher, Jenny has written eight public school yoga and mindfulness programs that are being taught in schools throughout North America, including the first ever Yoga Grade 11 course.
She has also co-authored a Yoga for Autism Program with Autism Consultant Catherine Rahey, as well as a Yoga for Special Needs Program. Most recently Jenny has written the revolutionary Girl on Fire Empowerment Program for teen girls, which is reaching women of all ages. Their latest evidence-based project, Mindfulness in the Classroom is changing the way teens relate to life, to themselves and others.
As a dedicated educator and innovator, Jenny's teachings are rooted in over 10,000 hours of study with leading authorities such as the legendary Shri K. Pattabhi Jois, Deepak Chopra and Michael Lee. Most recently Jenny acquired full certifications in Qi Gong and medical Qi Gong.
Jenny is also the Official Yoga Trainer for Olympic athletes in Atlantic Canada.